Flint & Walling Pumps
F&W Pumps and Parts
Flint & Walling has been trusted to meet the needs of homeowners, businesses, and farmers for over a century. We are proud to provide our customers with the very best in plumbing solutions that are backed by our long legacy of experience and expertise.
We offer a wide selection of Flint & Walling pumps and parts for whatever your needs might be. Whether you're in need of a replacement part, a back-up pump, or a new installation, our products offer reliable, efficient, and cost-effective solutions.
Our selection of F&W pumps and parts includes centrifugal, submersible, booster, jet, sprinkler, sump, sewage, and effluent pumps as well as a variety of installation packages and accessories.
Check out our selection of Flint & Walling pumps and parts!
Buy Flint and Walling products to receive FREE GROUND SHIPPING!
Ships within 24 HOURS of order.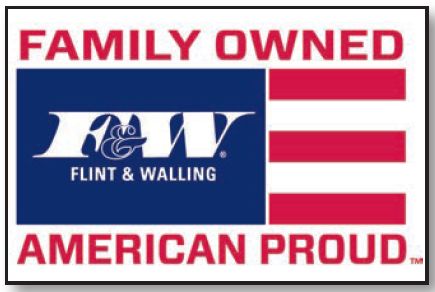 "With the majority of Flint & Walling
products being manufactured in the
USA, using a majority of US content,
Flint & Walling is proud of their 150
years of manufacturing in the USA."